MX-5 NEWS
13/08/05 - Club Members Of The Year
Congratulations to the 2004-2005 Club Members of the Year Robyn and Vaughn Thompsett.

The amount of work both Robyn and Vaughn undertake for the club is sensational, especially considering the constraints of Vaughn's job and the distance they often have to travel to attend meetings and events.

We're indebted to Robyn and Vaughn for the fantastic events they've both organized.

For Robyn's hard work sewing badges onto club tops, purchasing merchandise and always being ready to encourage members to buy merchandise.

To Vaughn for professionally handling the club books, going out of his way to organize cheques and payments for events even though he might be unable to attend himself. Also to Vaughn for his involvement with the Autokharna team and Driver Training.

And perhaps more importantly for way they've worked together to help make the club run smoothly.

If the Thompsetts end up back in Sydney they'll be greatly missed and I'm sure the they'd become an asset to the NSW club.


Robyn and Vaughn Thompsett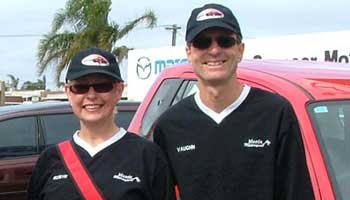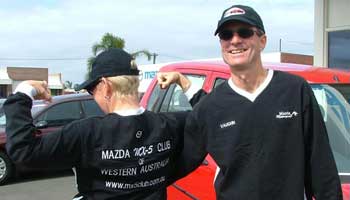 Their MX-5