INTRODUCTION
ABOUT THE CLUB
THE COMMITTEE
JOIN OUR CLUB
MOTORSPORT
DRIVER TRAINING
DRIVER PROFILES
TECHNICAL
MERCHANDISE
MX-PRESS
CHAT ROOM
CLUB HISTORY
IMAGE GALLERY
VIDEO GALLERY
CLUB DOCUMENTS
LIFE MEMBERS
MAZDA DEALERS
NEWS ARCHIVE
EVENT ARCHIVE
CONTACT US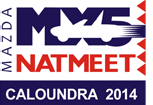 CLUB MAGAZINE "MX-PRESS"
The Mazda MX-5 Club of Western Australia produces a bi-monthly newsletter, MX-press.
Currently this masterpiece of modern journalism is edited by Bob Sharpe and produced by Simon Corston. These members of ill repute are often seen laughing at each others jokes and patting themselves on the back.
It is therefore the duty of every member of the club to contribute content to the newsletter in any way possible, which will lessen the space available to these two literary loons. All contributions are welcomed, from opinions, articles, reports, puzzles, for sale items and anything in fact which may appeal to some other members.
Contact editor Bob at editor@mx5club.com.au if you are thinking of joining the club and would like a copy of a back issue of MX-press to see what the club does. Don't forget to mark the email subject "MX-press" cos Bob deletes emails from people he doesn't know without reading them.
Current versions of the club magazine are a privilege reserved for club members only.
Examples of the club magazine can be downloaded in pdf: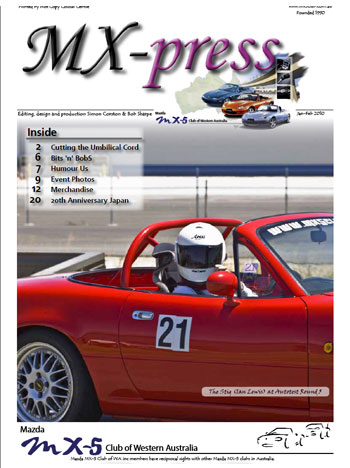 January February 2010 Version 2.6 MB.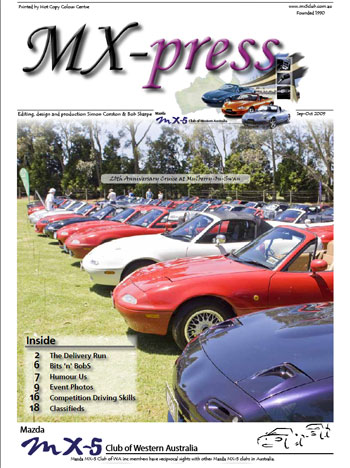 September October 2009 Version 2.2 MB.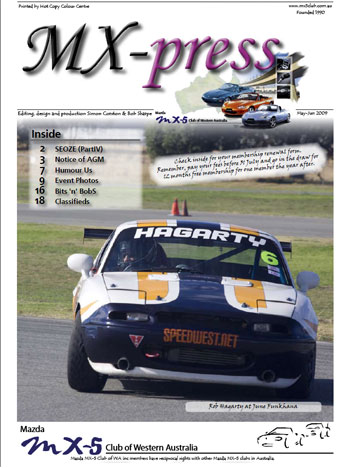 May June 2009 Version 3.4 MB.
Advertisers
MX-Press would like to thank Phoenix beer www.allstatesliquor.com.au, Shannons Insurance www.shannons.com.au, Wheels World www.wheelsworld.com.au and MX5Cartalk.com MX5Cartalk.com for their support.
If your company would like to advertise in MX-Press then please contact editor@mx5club.com.au.