INTRODUCTION
ABOUT THE CLUB
THE COMMITTEE
JOIN OUR CLUB
MOTORSPORT
DRIVER TRAINING
DRIVER PROFILES
TECHNICAL
MERCHANDISE
MX-PRESS
CHAT ROOM
CLUB HISTORY
IMAGE GALLERY
VIDEO GALLERY
CLUB DOCUMENTS
LIFE MEMBERS
MAZDA DEALERS
NEWS ARCHIVE
EVENT ARCHIVE
CONTACT US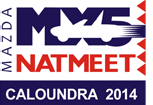 PAST EVENT
16/01/13 - After Work Get Together - City Beach Sundowner
For our first midweek event of the year join your fellow Fivers for a drink / picnic / catch up whilst you watch the sunset from the beach.

There are some free BBQ's, or if a BBQ / Picnic sounds like too much work, you can grab a bite on the way at Pizza Pasta Boulevard or The Groper and his Wife, both located at the nearby Boulevard Shopping Centre on Gayton Road.

Make your own way to City Beach, we plan to gather on the lawn to the north of Clancy's Fish Pub from 6:30pm onwards. Get there a bit earlier if you want to have a swim before hand.

If it rains we'll seek shelter at Clancy's Fish Pub.

It is a good opportunity for potential members to come along, have a chat in an informal setting, and find out more about the club.