INTRODUCTION
ABOUT THE CLUB
THE COMMITTEE
JOIN OUR CLUB
MOTORSPORT
DRIVER TRAINING
DRIVER PROFILES
TECHNICAL
MERCHANDISE
MX-PRESS
CHAT ROOM
CLUB HISTORY
IMAGE GALLERY
VIDEO GALLERY
CLUB DOCUMENTS
LIFE MEMBERS
MAZDA DEALERS
NEWS ARCHIVE
EVENT ARCHIVE
CONTACT US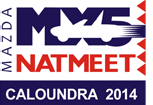 PAST EVENT
27/06/12 - Monthly Meeting
Committee meetings normally are held on the last Wednesday of each month at the WA Mazda State Office at Unit 9/51-53 Kewdale Road, Kewdale.

Members arrive at 6:30 for a 7 o'clock start and meetings usually finish 9ish.

Come along, It is an excellent opportunity to socialise and have input to the running of your Club.

Arrive at 6:30 to enjoy some nibbles compliments of the club. Everyone is welcome.