INTRODUCTION
ABOUT THE CLUB
THE COMMITTEE
JOIN OUR CLUB
MOTORSPORT
DRIVER TRAINING
DRIVER PROFILES
TECHNICAL
MERCHANDISE
MX-PRESS
CHAT ROOM
CLUB HISTORY
IMAGE GALLERY
VIDEO GALLERY
CLUB DOCUMENTS
LIFE MEMBERS
MAZDA DEALERS
NEWS ARCHIVE
EVENT ARCHIVE
CONTACT US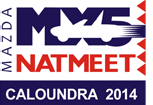 need profiles here
The MX-5 Club of WA has many skilled drivers, their knowledge of suspension setup, performance modification and expert driving instruction is a valuable asset.

As a club we're constantly thankful for their helpful and friendly advice.
FEATURED DRIVERS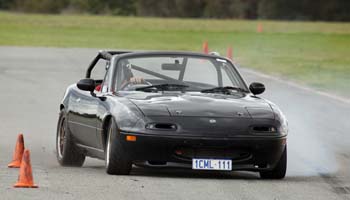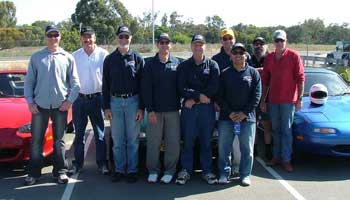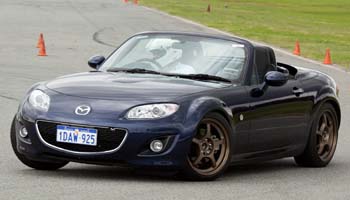 Driver Name : Ian Lewis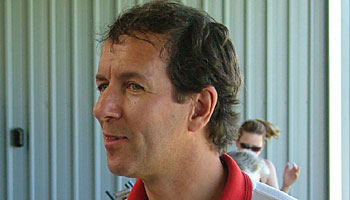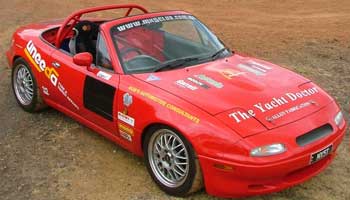 1989 Mazda MX-5
Engine: 1608cc Mazda B6 DOHC In-Line 4
Power: 321 PS SAE @ 6958 rpm & 334Nm @ 5600rpm @ 19 psi boost on 98 octane.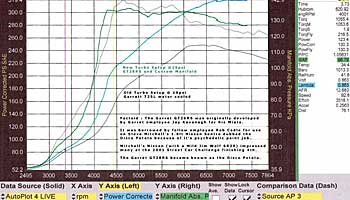 Weight: 904 kgs - Seam welded, Sand blasted & Painted
Air Filter: K&N - shielded
Turbocharger: Garratt GT28RS (0.86/0.64)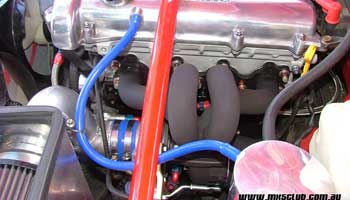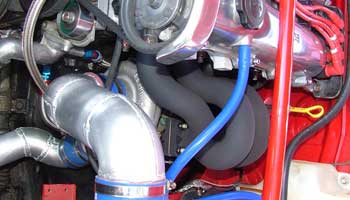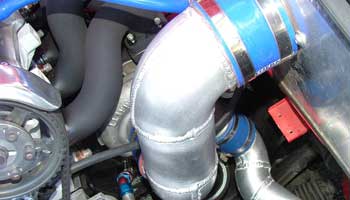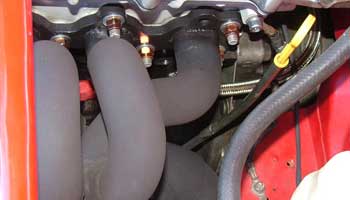 Intercooler: AVO
Computer: Autronics SM2+ w/traction control
Fuel Pump: Bosch High Pressure
Injectors: Bosch 531
Camshafts: Wade Cams 25/65
Pistons: Arias 8.2:1cr forged
Internals: HD bearings, polished block, shot peened 'FamiliarT' conrods, ported & polished
Oil Catch Can: Custom - from both rocker cover outlets
Oil Cooler: Mocal 13x10
Exhaust: Custom tubular manifold & dump pipe, 3" Stainless w/cat & resonator
Radiator: PWR 50mm with 2nd fan
Water Pump: Extended impellor blades
Flywheel: Aluminium with steel face and starter ring
Clutch: Twin Plate
Gearbox: Mazda M15MD, Refurbished
Prop shaft: VEEM, HD universals
Differential: Cusco 2-way Clutch Pack LSD
Suspension: Flyin' Miata rear suspension mounts, Racing Beat springs, links & adjustable anti-roll bars, Koni GP shocks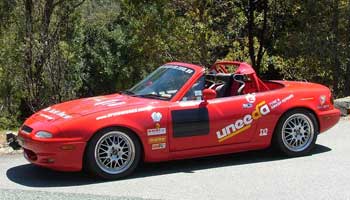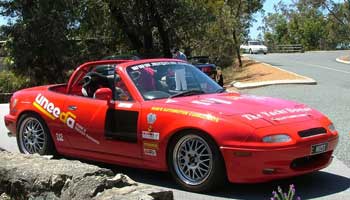 Brace: Suspension Tower - CroMo
Brakes: Fr Wilwood 4 pot callipers, 280mm slotted rotors. Rr OEM callipers, 255mm slotted rotors.
Wheels: Simmonds OM3 16x8
Tyres: Dunlop D02 S 225/45-16
Cockpit: CrMo 6 point roll cage, Momo Synthesis seats, Momo wheel, Miata Club gear knob, Luke 6 point harnesses, VDO exhaust temp, boost & fuel pressure gauges, Odyssey Battery, battery/ignitionremote cutout switch, fire extinguisher.
Driving Style : Smooth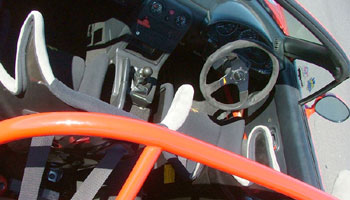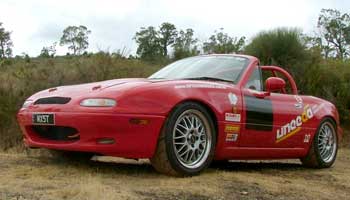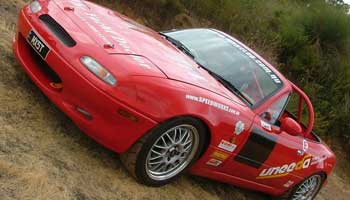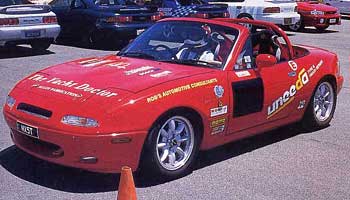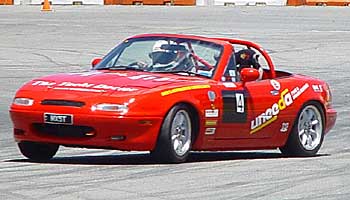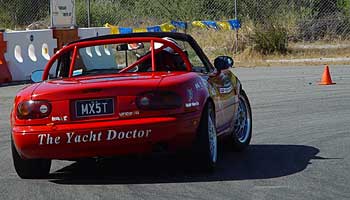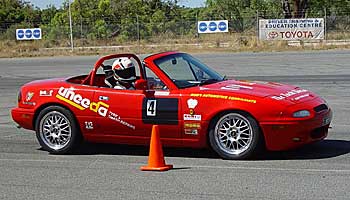 Driver Name : Simon Corston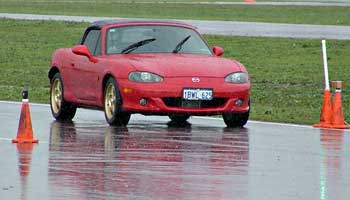 2005 Mazda MX-5 SE Turbo - Velocity Red
Engine: 1839cc four cylinder inline 16 valve DOHC with intercooled turbocharger
Power: 225 RW kW @ 6300 rpm & 396 Nm @ 4600 rpm
Weight: 1122 kg
Differential: Torsen LSD factory fitted
Induction System: HKS GT-SS turbocharger
Exhaust System: Custom stainless Steel 3"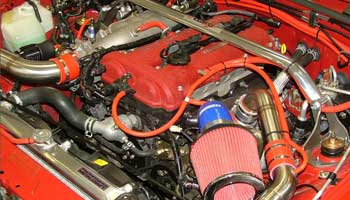 Suspension Components: Independent double wishbone with coil springs, Tein Flex shock absorbers and torsion bar stabilisers
Suspension Setup: modified for road and track
Brakes: front ventilated and rear solid disc brakes
Tyres: Dunlop D01J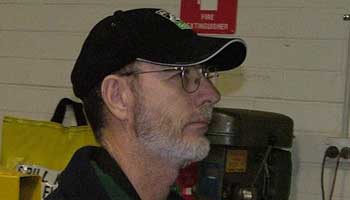 Wheels: 205x50xR16 on Enkie RPF1 16x7
Driving Style: Learning to be smooth and fast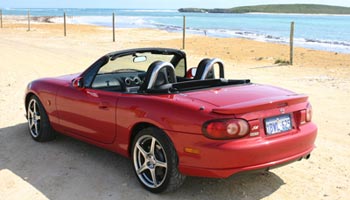 Other Modifications: Wolf V500 ECU, Performance Metal Craft (PMC) alloy radiator, PMC surge tank and Bosch fuel pump, Sard 550cc/min injectors and fuel pressure regulator, Performance Metal Craft intercooler & s/steel plumbing, Pod air intake, Cusco strut brace, Turbosmart blow-off valve and boost controller, Mazda SP turbo manifold and dump pipe, braided lines.
Full engine rebuild with Wiseco forged pistons, Carrillo billet conrods, ARP studs, ACL race main, big-end and thrust bearings, custom heavy duty clutch.
Engine/ECU tuning: by GTI Performance
Events Competed In: Max Auto Action Series, MC Challenge Series autokhana, AHG State Auto Test Series, Jack's Hill Climb Summer Series, Mazda MX-5 Club of WA Autotest Series.