INTRODUCTION
ABOUT THE CLUB
THE COMMITTEE
JOIN OUR CLUB
MOTORSPORT
DRIVER TRAINING
DRIVER PROFILES
TECHNICAL
MERCHANDISE
MX-PRESS
CHAT ROOM
CLUB HISTORY
IMAGE GALLERY
VIDEO GALLERY
CLUB DOCUMENTS
LIFE MEMBERS
MAZDA DEALERS
NEWS ARCHIVE
EVENT ARCHIVE
CONTACT US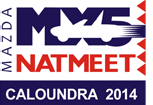 PAST EVENT
03/03/13 - New Norcia Crusade
The MX-5 Club cruise on the 1st Sunday of each month.

We gather in the carpark between the Burswood Dome and Great Eastern Highway at 9:00 and depart 9:30am sharp Click here to view a map

This month we are doing a scenic cruise through the picturesque Chittering Valley to the morning tea stop at the Bindoon Bakehaus. From there we take the back roads to Australia's only Monastic Town; New Norcia. Total distance 160 km.

Bring a picnic or have lunch at the New Norcia Hotel; its no ordinary country pub; Owned by the monks it was originally built as a hostel for visiting parents and was converted to a hotel in the 1950s. Enjoy your meal with a coffee on the terrazzo tiled veranda, with an Abbey Ale at the bar, or with a glass of New Norcia wine in the outdoor alfresco area.

The 2 hour guided tour is the best way to discover New Norcia. Hear stories of the last 160 years and visit the monks' own chapel within the monastery, Abbey Church, the frescoed interiors of the College Chapels (not otherwise open to the public). The tour departs at 1:30pm. Alternatively have a stroll through town or lose yourself for an hour in the Museum and Art Gallery where European religious art in the grand style, hangs alongside contemporary Australian religious art.