INTRODUCTION
ABOUT THE CLUB
THE COMMITTEE
JOIN OUR CLUB
MOTORSPORT
DRIVER TRAINING
DRIVER PROFILES
TECHNICAL
MERCHANDISE
MX-PRESS
CHAT ROOM
CLUB HISTORY
IMAGE GALLERY
VIDEO GALLERY
CLUB DOCUMENTS
LIFE MEMBERS
MAZDA DEALERS
NEWS ARCHIVE
EVENT ARCHIVE
CONTACT US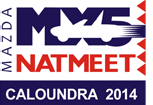 PAST EVENT
02/12/12 - Monthly Cruise Santa's Sleigh Ride to The Mountie
The MX-5 Club cruise on the 1st Sunday of each month.

We gather in the carpark between the Burswood Dome and Great Eastern Highway (Click here to view a map) at 9:00 and depart 9:30am sharp.

Decorate your Sleighs, wear a Santa Hat and stuff your stockings, and polish your baubles for an 85 km jolly through the Hills to the Mount Helena Tavern and Restaurant.

The "Mountie" is a quaint 100-year-old tavern and on Sundays, they have a band playing in the large beer garden; a perfect place to unwind with your fellow Fivers before the onslaught of the festive season!