INTRODUCTION
ABOUT THE CLUB
THE COMMITTEE
JOIN OUR CLUB
MOTORSPORT
DRIVER TRAINING
DRIVER PROFILES
TECHNICAL
MERCHANDISE
MX-PRESS
CHAT ROOM
CLUB HISTORY
IMAGE GALLERY
VIDEO GALLERY
CLUB DOCUMENTS
LIFE MEMBERS
MAZDA DEALERS
NEWS ARCHIVE
EVENT ARCHIVE
CONTACT US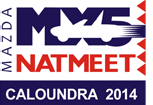 PAST EVENT
14/11/12 - After Work Slot Car Racing
Members attending
Andree ter Kuile
Derek Martin
Paul Andriessen
Gary Wotzko
Fernando Paraguassú
Gary King
Paul King

Andree ter Kuile is taking us Slot Car Racing at Checkered Flag, Perth's premier slot car raceway.
Slot cars are scale model vehicles powered by a small hobby-type DC electric motor. They use a front-mounted guide pin or flag to ride in a slot on a scale racecourse or track. The vehicle's speed is controlled by the racer (you) via a controller to navigate the different areas of the track such as the curves and bends in the course's layout.
We have booked for from 7:30 PM for 1½ hours of racing on the eight lane road course, and after everyone has got in a couple of practice laps there will be a competition using computerised timing.
Checkered Flag is at 5/1909 Albany Highway, Maddington (in Olga Road opposite McDonalds). Cost $15 each, the club will supply soft drinks, in addition there is coffee and food at the McCafe across the road!
Please RSVP to
andree.terkuile@gmail.com
if you want to be in it!