INTRODUCTION
ABOUT THE CLUB
THE COMMITTEE
JOIN OUR CLUB
MOTORSPORT
DRIVER TRAINING
DRIVER PROFILES
TECHNICAL
MERCHANDISE
MX-PRESS
CHAT ROOM
CLUB HISTORY
IMAGE GALLERY
VIDEO GALLERY
CLUB DOCUMENTS
LIFE MEMBERS
MAZDA DEALERS
NEWS ARCHIVE
EVENT ARCHIVE
CONTACT US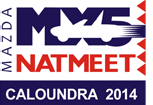 PAST EVENT
04/11/12 - Monthly Cruise Archery
Members attending
The MX-5 Club cruise on the 1st Sunday of each month.
We gather in the carpark between the Burswood Dome and Great Eastern Highway (
Click here to view a map
) at 9:00 where you will need to enter your team, made up of 4-5 people for the archery competition before we depart at 9:30am sharp.
After some boring bits to get out of the city getting to the archery involves some scenic and twisty roads with a morning tea stop (lunch is likely to be a tad late…) at the famous Bakers Hill Pie Shop.
From there it's only a short run to Hoddywell Archery Park, where we will book in as a group. Costs, including the Robin Hood gear, are $15.50 each. After receiving some instructions on how to use the gear safely, you are let loose at 9 different targets (akin to a game of golf without the clubs). The targets are all set at different distances and are different sizes. Each archer shoots 3 arrows at each target before moving on to the next until the trail is completed.
Whilst you adjourn to the free gas BBQ's for a late lunch the results will be analysed to determine the winners. BYO food, refreshments and a chair, alcohol is permitted only after the shoot (and you may need to appoint a skipper!). For those who find a BBQ too challenging there is a snack food kiosk at the archery park.
After lunch awards for the best individual and team efforts will be awarded.
Looking forward to seeing a large quiver of MX-5's on the run!