INTRODUCTION
ABOUT THE CLUB
THE COMMITTEE
JOIN OUR CLUB
MOTORSPORT
DRIVER TRAINING
DRIVER PROFILES
TECHNICAL
MERCHANDISE
MX-PRESS
CHAT ROOM
CLUB HISTORY
IMAGE GALLERY
VIDEO GALLERY
CLUB DOCUMENTS
LIFE MEMBERS
MAZDA DEALERS
NEWS ARCHIVE
EVENT ARCHIVE
CONTACT US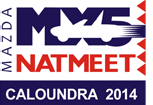 PAST EVENT
07/10/12 - Monthly Cruise - Jarrahdale Log Chop
The MX-5 Club cruise on the 1st Sunday of each month.

We gather in the carpark between the Burswood Dome and Great Eastern Highway (Click here to view a map) at 9:00 and depart 9:30am sharp.

Pat and Colleen will take you on a 132 km cruise, firstly through pleasant farm land before heading up through the forest to Jarrahdale for the Log Chop and Country Fair.

The re-group at a point with toilets and a deli will allow time for a breather and a chat. Take some time to watch the Championship Axemen in action and browse the plethora of stalls trying to separate you from your money in return for refreshments, food and arts and crafts…

For those who prefer a sit down meal before going on to the log chop, the Jarrahdale Tavern will reserve a section of the beer garden for us.