INTRODUCTION
ABOUT THE CLUB
THE COMMITTEE
JOIN OUR CLUB
MOTORSPORT
DRIVER TRAINING
DRIVER PROFILES
TECHNICAL
MERCHANDISE
MX-PRESS
CHAT ROOM
CLUB HISTORY
IMAGE GALLERY
VIDEO GALLERY
CLUB DOCUMENTS
LIFE MEMBERS
MAZDA DEALERS
NEWS ARCHIVE
EVENT ARCHIVE
CONTACT US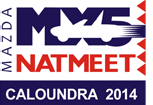 PAST EVENT
01/10/12 - Sprint Day
Members attending
Updated 27/0/2012 at 18:30

ENTRIES CLOSED

Entrant/Car/Paid
Andrew Cathie MX5 $
Anita Willis MX5 (share MartinW) $
Bonny Teoh MX5 $
Brian Back MX5 $
Chris Lim (TerryL) $
Chris Wilson XR6 Turbo $ (JamesC)
Dave Young Mx5 $
David Boulton MX5 $
David Lim (DavidL) $
Don Guan MX5 $
Don Messenger MX5 $
Duncan Jamieson Evo X (DaveY) $
Gary Carlin MX5 $
Graeme Willis Porsche 993 (share JillW)(MartinW) $
Hanson Wheeler MX5 $
James Curry MX5 $
Jarad Gardner XR8 (JamesC) $
Jill Willis Porsche 993 (MartinW) $
Johnny Reble BMW Z4 $
Lucy Hames MX5 $ (share SteveH)
Marc Feron MX5 $
Martin Willis MX5 $
Michael Tite MX5 $
Pat Gannon MX5 $
Phil Shulz MX5 $
Renne de Waard MX5 $
Rob Carson MX5 $
Rod Willis Daihatsu Charade $
Simon Corston MX5 $
Simon Gratton MX5 $
Steve Harris MX5 $
Terry Lim MX5 $
Tim Hames VW Polo $ (SteveH)

This is a fun sprint day and will be held at the RAC Centre on
Monday 1st October
.
The event will not be timed. No competition licence is required, Only a licensed roadworthy car.
Open to all comers with preference to Club Members and MX5 drivers on a first come basis.
Entrants must be there by 7:45 and we would love to have at least two volunteers on the day to help out (please email
motorsport@MX5club.com.au
if you can help.