INTRODUCTION
ABOUT THE CLUB
THE COMMITTEE
JOIN OUR CLUB
MOTORSPORT
DRIVER TRAINING
DRIVER PROFILES
TECHNICAL
MERCHANDISE
MX-PRESS
CHAT ROOM
CLUB HISTORY
IMAGE GALLERY
VIDEO GALLERY
CLUB DOCUMENTS
LIFE MEMBERS
MAZDA DEALERS
NEWS ARCHIVE
EVENT ARCHIVE
CONTACT US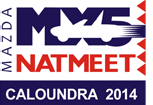 PAST EVENT
24/08/12 - Wildflower Weekend Away - Three Springs
Members attending
Derek and Bonnie Martin $
Tony and Sheila Wilkinson
Paul and Judith Andriessen $
Alan and Sheila Wallace $
Bonny Teoh and partner $
Gary and Sheila Nordon $
Dave Currell and partner $
Richard and Allyson Mockford $
Johnny and Kim Reble $
Ray and Michelle Bray $
Marianne and Marc Feron $
Phil and Kaye Schulz $
Costa and Stylianou $

EVENT IS BOOKED OUT
The 2012 Weekend Away organised by Derek and Bonnie Martin will be from Friday 24 to Sunday 26 August.
We are staying at the Tree Springs Tourist Lodge located at 4 Carter Street, Three Springs, WA 6519; see www.wildflower-bedandbreakfast.com for details.
The plan is for you to make your own way to Three Springs (about 310 km north of Perth) via Bindoon and Moora on Friday afternoon or evening.
On Saturday, after a leisurely breakfast, we do a loop through the wildflower country with stops at Morawa, Canna, Mullewa, Coalseam Conservation Reserve, and Walkaway followed by lunch at the Hampton Arms in Greenough before we return to Three Springs via Mingenew
On Sunday we return via the coast with a stop at the Pinnacles and lunch at the Lancelin Tavern before you make your own way home.
The club has booked all 13 rooms at the Tree Springs Tourist Lodge so we will have the place to ourselves whilst David and Linda are looking us after.
Costs for the Friday night and Saturday night accommodation including continental breakfast on Saturday and Sunday morning and the Saturday Night BBQ dinner are $270 per couple.
Reserve your place now by emailing Howard at
social@mx5club.com.au
, first in best dressed…
Please pay the $270 by EFT to the club:
Account name: Mazda MX5 Club of WA
BSB: 036001
Account No: 132341
With the notation "Name"+WWA, e.g. Howard's would be Howard MacCallumWWA