INTRODUCTION
ABOUT THE CLUB
THE COMMITTEE
JOIN OUR CLUB
MOTORSPORT
DRIVER TRAINING
DRIVER PROFILES
TECHNICAL
MERCHANDISE
MX-PRESS
CHAT ROOM
CLUB HISTORY
IMAGE GALLERY
VIDEO GALLERY
CLUB DOCUMENTS
LIFE MEMBERS
MAZDA DEALERS
NEWS ARCHIVE
EVENT ARCHIVE
CONTACT US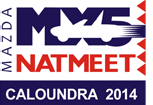 PAST EVENT
25/07/12 - Monthly Meeting
Committee meeting at WA Mazda State Office, Unit 9/51-53 Kewdale Road, Kewdale.

Members arrive at 6:30 to enjoy some nibbles compliments of the club before we start at 7pm.

It is an excellent opportunity to socialise and have input to the running of your Club, everyone is welcome.

Meetings usually finish 9ish.